Specialized Lighting for Texas Weddings & Events
Beautify, personalize, & totallly 'magify' your Texas event with specialized lighting from Yogi-G. It is 'ahh-mazing' what can be done with our unique lighting.
Lighted Dance Floors
Uplighting
Pattern Lighting for Walls and Floors
LED Dance Floor Lighting
Pin Spot Lighting to Highlight Special Areas
Monograms/Gobos/Logos
Wash Lights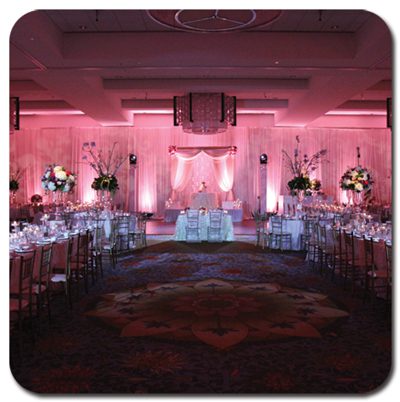 LED Lighting
We can transform even a plain hall into a palace with uplighting. Regardless of your budget, you deserve the same, opulent ballroom as a celebrity! Yogi-G LED lighting bathes the walls and ceilings of your hall with rich, color coordinated rays of light. You will love its magical look as much as its affordability! Yes, LED lighting is truly a must for every event!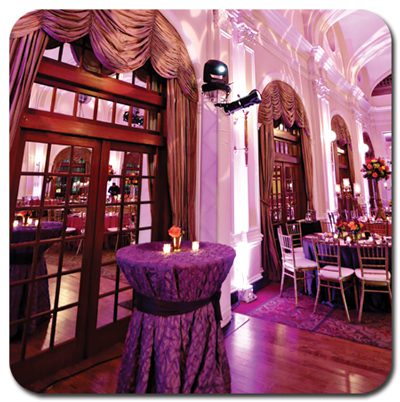 Intelligent Lighting
Take your lighting to the next level. Intelligent Lighting goes beyond uplighting to create high drama with creative lighting design. These lights are controlled. You'll be struck by how precisely we can direct them to any area of your hall. Your first dance will be legendary in the glow of our intelligent lighting. Bridal party entrances are transformed into the high drama of a Bollywood premier. The sky is the limit! Available in 2-8qty fixtures.
Monogram/Pattern Gobo
Nothing personalizes your event like Yogi-G's Custom monogram or gobo patterns. Imagine seeing your name, initials, or custom designs projected with light … anywhere! Place it on the ceiling, the walls, even the center of the dancefloor!
Pinspot Lighting
Will your wedding cake be a work of art? It doesn't matter if no one can see it. Pinspot Lighting not only beautifully illuminates your cake so everyone can see it, it will leave your guests in awe! This is another way to use lighting to enhance the look of your event. It will look like you hired an expensive decorator, even if you didn't! Available in packages of 10, 20, or 30 or more.
Wash Lights
Imagine going to a show, and not being able to see the performance. Being able to "enhance" the lighting of a performer or speaker is an important aspect of any event. Karma provides the right tools to get the job done to keep your guests entertained and involved.
LED Dancefloor
Ready to experience the ultimate dance floor experience? Yogi-G's LED Dance Floor does it all! It'll write messages and change colors to the beat of music. Watch the look of delight on your guests' faces when they step on pressure points that create a unique ripple effect … and more. Remember seeing those great disco dance floors in movies from the 70s? By comparison, ours are dance floors on steroids!